Embrace is a 501 (c)(3) nonprofit organization rooted in mobilizing college student volunteers to serve less fortunate members of civilian and military veteran communities.
Founded in 2000 by CEO Sean Sheppard, Embrace programs are designed to connect college student leaders to San Diego's multi-cultural community in the areas of social and physical wellness through service learning and volunteerism. The organization is built on the philosophy that serving less fortunate members of civilian and veteran communities brings people together - irrespective of their race, religion or cultural upbringing.
San Diego CW 6 News Interview at SDG&E Helping People In Need Kickoff Breakfast
Embrace Founder Sean Sheppard has been selected by the California Senate and Assembly to speak at the California Heroes Month press conference on September 2, 2014.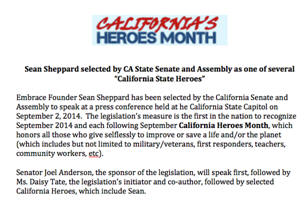 Embrace is very grateful to have long time corporate sponsors like Ken, and his wonderful wife Karen, Bates, founders of Military Home Loans.  Military Home Loans makes it possible for us to continue to serve disabled veterans through the Healing Our Heroes' Homes program through their generosity and heartfelt passion for veterans.  They genuinely care about the well being of everyone who has served our country and we are proud to call them our friends and partners.  Thank you Ken and Karen!