Embrace is a 501 (c)(3) nonprofit organization rooted in mobilizing college student volunteers to serve less fortunate members of civilian and military veteran communities.
Founded in 2000 by CEO Sean Sheppard, Embrace programs are designed to connect college student leaders to San Diego's multi-cultural community in the areas of social and physical wellness through service learning and volunteerism. The organization is built on the philosophy that serving less fortunate members of civilian and veteran communities brings people together - irrespective of their race, religion or cultural upbringing.
San Diego CW 6 News Interview at SDG&E Helping People In Need Kickoff Breakfast
Embrace Founder Sean Sheppard has been selected by the California Senate and Assembly to speak at the California Heroes Month press conference on September 2, 2014.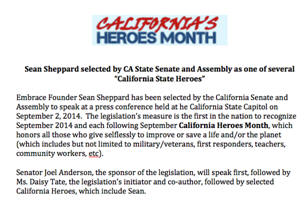 We are so proud to recognize Shawn Tenny, SDSU graduate student, member of SDSU Kappa Sigma fraternity, SDSU Rotaract and is actively involved with SDSU Associated Students. Shawn is very special to us here at Embrace and has been since he was in undergraduate school. He is very passionate about community service and helping others, and has always been available to serve whenever we've called upon him - always. Thanks for all you've done to help Embrace grow Shawn. You're in a class of your own.